A fascinating interplay of precisely synchronized juggling moves with light-effects and music.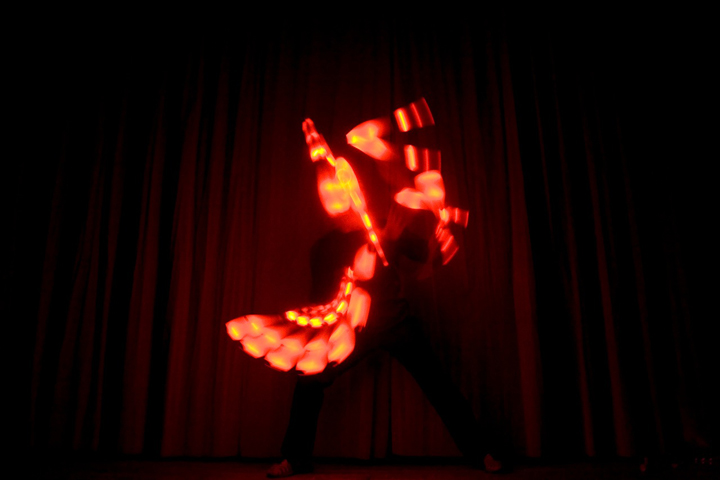 For the new juggling routine with the Glow-Clubs, NilyNils is using the latest technological innovation in Circus-equipment.
Specifically designed for night-time or dark conditions, the Glow-Clubs step beyond the limitations of luminous and ultra-violet juggling equipment.
These newly developed juggling clubs use Led's and a microprocessor so that they can glow in different colours and with different light intensities.
The different patterns that emerge whilst juggling these unique clubs are a completely new way of captivating people through the art of juggling.
The Glow-Clubs open up a new dimension to the classical combination of juggling and music, with the ability to synchronize colours and light-patterns to the music.
That way NilyNils gives this number it's very own logic, which
guides the fascinated audience in an almost hypnotic way through the routine.
This 7-minute juggling routine is especially suitable for galas and variety shows but can also be specifically adjusted to your event.
The Glow-Show can also be included in the NilyNils-Show with the high unicycle as a very special second finale!
---
Members:

Duration:
7 minutes (in combination with NilyNils-Show 30 to 60 minutes).
Audience:

Type of performance:
complex jugging routine with glow-equipment to music
The show does not depend on a stage or a special light system and can be performed almost anywhere. To appreciate the full visual impact of the clubs, a certain level of darkness is required, which makes the show especially suitable for indoor venues or night shows for open air events.

Minimum space required 3x3x3 meter
Music:
iPod, Computer, MiniDisc or CD.
- batterie powered 50 watt sound system (

Bose

). Sufficent for most performances for up to 100 people.
- Aktivboxen mit Subwoofer und zwei Satelliten und Mischpult:
HK AUDIO

® Aktivsystem L.U.K.A.S Smart
Power Subwoofer: 250 W/3 ohms @ 0,3 % THD
Power Satellites: 2x 60 W/4 ohms @ 0,3 % THD
(Excellent sound quality for events with up to 400 people - of curse that always depends on the space and the surrounding noice)